Goa is a place synonymous with fun, frolic, and color. Every female traveler plans to make it to Goa at least once in their lifetime. It is a place like none other. The beaches and the lush green forests make it unique in itself. The adventure sports offered at the beaches combined with serene two-wheeler rides and the party culture make it a complete package. The rich heritage, architecture, and authentic Goan food make it an irresistible place. Whenever looking for a perfect blend of Sun, spices, sand, and water, Goa is the place to be at.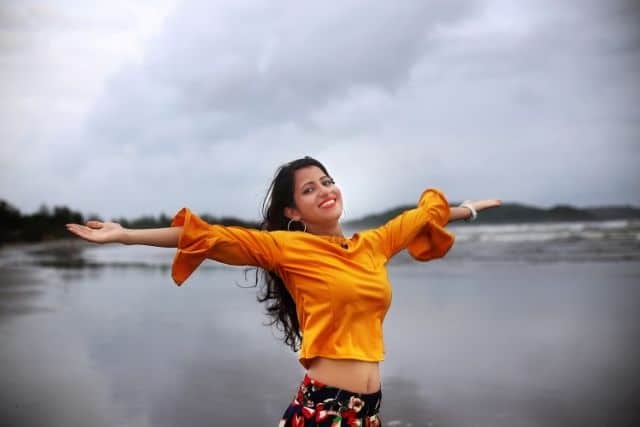 Goa is a fantastic holiday destination for Girls. If you are looking for great, assorted places to visit, Goa is your place. If you are looking for affordable and pocket-friendly tour options, Goa is undoubtedly your place. Many unique aspects of Goa can be covered and experienced in a single trip. Each penny you spend in Goa will be worth it. 
There are many reasons to visit Goa. The following 11 unique reasons make Goa a sought-after destination for your next all girls travel plan. 
1. Beautiful sandy beaches and Sun
The beautiful golden beaches make Goa a beautiful place to explore. The waters ushering in from the sea bring with them a salty breeze. You can sunbathe or play on the sandy beaches of Goa. The beaches offer a beautiful place to relax and calm your nerves. 
If you are a solo traveler, love the action on the Beach, Baga beach will be perfect for your adventure. If you prefer a tranquil beach, then you must head to Palolem beach in South Goa. Sit by the water and enjoy the foamy water washing your feet. Miramar beach is perfect for dipping your feet in the water, sit, relax and enjoy.
The craze of the mid-town and the beach parties have not affected the traditions and beliefs of the Goan people. The calming ancient temples and churches attract many tourists all around the year. You can visit them out of curiosity or worship. When visiting North Goa, you must not miss the Bom Jesus Basilica, home to the preserved body of St. Francis Xavier for 450+ years.
Authentic Goan food is lip-smacking good. Your visit to Goa is incomplete without the favor of authentic Goan food. The traditional food reflects Portuguese influence. The food will take you by surprise with its unique spices, flavors, and texture. Goan food is known to be one of the exotic cuisines in the world. Vegetarian and non-vegetarian dishes both from Goa will leave you amazed. You can easily find cuisines from around the world in Goa. 
Goa is a melting pot of activities for one and all. How can adventure lovers be left behind? Goa offers all sorts of water and adventure sports to travelers. It is an adventure lover's paradise. From activities like snorkeling, kayaking, water skiing, surfing, water scooting, paragliding, among others, you can enjoy them all. Enjoy the water sports along with other adventure sports offered at Goa at excellent prices and complete safety.
If you are a woman who has not seen dolphins till now, this drive is meant for you. Here you will spot many dolphins. The dolphin cruise introduces the cute world of dolphins. The dolphins jump in and out of water gracefully and are a sight to behold. It is ideal for young and old to take the Grand Island tour.
The nightlife in Goa is a no-brainer fact. We all love the parties, the loud music, and the beautiful sandy beaches. As the Sun sets, Goa comes to life. The state of Goa parties all around the year. So, if you are in Goa, don't waste a night in your bed; enjoy it like everyone else.
There are multiple options to explore in Goa. Parties at hotels, homestays, beach shacks, you name it, and you have it in the party capital of India. Tito's cafe is one of the most happening places in Goa. You must go there and shake a leg to see what the hype is about after all.
A carnival in Goa sounds like the perfect plan. In February or March every year, the Goan streets come alive and enjoy. Everyone is on the roads. The Goa carnival is one of the much-awaited festivals. It has been celebrated since the times of the Portuguese colonial rulers.
8. A "Pilot" to drive around
A pilot flies a plane. Not in Goa, though. You can hire a bike taxi which a 'pilot drives.' Your pilot will take you anywhere you wish to go in return for money. These services are standard in North Goa. Do enjoy these unique Goan services when visiting North Goa. 
9. Shopping at Flea markets
Goa is not just about eating, exploring, and adventure. You can buy beautiful things and clothes from the unique flea markets of Goa. The markets of North Goa, such as the Mapusa Market, Saturday Night Bazaar, and Anjuna Flea market, are where you'll find some unique items on sale.
The individual articles range from handmade crafts, jewelry, funky accessories, boho dresses, etc. these markets are a shopper's paradise. Anjuna offers a unique marketplace every Wednesday, where you can buy new or second-hand stuff and enjoy your day.
Backwaters cruise in Goa is a true steal. Cruising through the backwaters with your loved ones is mesmerizing and magical. You also get to experience sunrise and sunset on the cruise. Your Goa vacation is incomplete without the night backwaters cruise.
11. Visit the churches in Goa
Goa has never broken ties with its rich heritage. If you have a refined taste in history, architecture, or religion, you must visit Goa's churches and temples. With a Portuguese twist to architecture, you can witness the holiness that Goa holds in its history.
There are reasons why Goa is a fantastic holiday destination for Girls. This small state will do wonders for you. If you can find more reasons to visit Goa, do mention them in the comments section below.