One thing we have missed the most during the pandemic is travel. With vaccination drives being conducted worldwide and with a successful curb on the spread of the virus, the travel scenario will be accessible in 2021. But we are still very much living in a pandemic. With slow and steady improvement in the situation, we will soon be able to travel to all parts of the world. 
What places are open for travel? What precautions and documents are prerequisites of the journey? Border closures and quarantine rules are still applicable in some countries. If you are a female traveler looking for a travel option that is easy in your pocket, this wishlist is perfect for you. You must look up official tourism sites for the country-specific for COVID precautions and rules. 
This list covers not only the cheap destinations but the cheap countries, which are fantastic destinations. All these destinations around the world will leave you bewitched with the beauty and many activities they offer. These incredible countries provide not just great value but also unforgettable sights and experiences. The trick is knowing where to go and spend your money wisely.
Vietnam is one of the best value-for-money destinations in the world. A backpacker can get around the country for as little as $25 per day and still experience all the best things that Vietnam offers. 
Indian travelers require a tourist visa to enter Vietnam. This initial cost must not stop you from exploring an otherwise cheap country. A bed in a decent hostel in the big cities or a homestay in rural Vietnam would cost you around $10 per night.
Vietnam has a strong street food game. A bowl of pho, a plate of Banh Cuon, two typical street food delicacies, among others, would cost you about $2. A glass of keg beer would cost you around 20 cents. An intercity bus or train travel would cost you between $5 and $35 
The country offers diverse relief. You can enh=joy everything from trekking to boat rides. Ha Giang and Mekong Delta backwaters are great places to explore. A great way to explore is to travel via the Reunification Express train between Saigon and Hanoi. You should take stops in between to enjoy historic towns, beaches, and national parks on the way. 
BUDGET: $25-$35 per person per day
Cambodia has a lot to offer. One of those countries where you will return to explore the country's hidden gems is a country we return to again and again. The vibrancy and magnificence of Phnom Pehn, the capital city, can be well felt through the historical monuments and temples such as Angkor Wat, the charming Battambang, the beach of Sihanoukville, the chance spotting of dolphins in the Mekong River, friendly people, and the delicious food. Cambodians are friendly and welcoming to tourists. They find it amusing and are happy to share about their country's history and stories.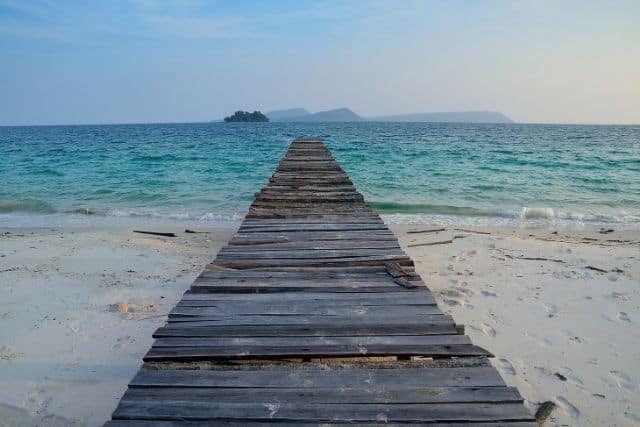 A backpacker can get a bed, food for about $10/12 per day. For $20-$30 per day, one can live comfortably in a guest house. Street food is about $1/2 per meal, and food in restaurants costs about US$3-$5 per meal.
Intercity and interstate travel in Cambodia are efficient and cheap. You can get a reserved seat on an air-conditioned coach between cities like Phnom Pehn and Siem Reap for $10. 
Transport connections to neighboring countries Thailand, Laos, and Vietnam are cheap and frequent, making Cambodia the perfect place to stay while exploring South-East Asia. 
BUDGET: $30-$40 per person per day
The peaceful Buddhist monasteries overlooking snowy peaks of the Himalayas are a signature of Nepal. The lush green natural parks offer a sneak peek into the unique flora and fauna this mountainous region offers. This budget-friendly nation is a trekker's paradise.
The daily expenditure for stay, visiting places, transport and food can be covered in $20-30 a day. Hostel beds for a night can be priced as low as $3 in Kathmandu, and budget guesthouses are $5-$6 for a double room. Buses would get you to your new destination for as low as $5-8. Staple food serving of Dal Bhat, rice, and lentils costs about $1.
Nepal is a paradise one cannot miss in a lifetime. If you ever get a chance to visit this surreal beauty, make the most of it. The most beautiful are the mornings in Nepal. When you wake up to the golden sun rays in the beautiful snow-laden mountains. You must not miss the Thukpa and Momos that would cost about $1-3 a meal. Chai in the hills is an elixir that would cost you only 20 cents! 
Whether you undertake a guided or unguided trek in Nepal, you will have fun and enjoy every bit of it. Adventure is at every step in Nepal. 
BUDGET: $25-$35 per person per day
The neighbor of India down south, Sri Lanka, is an exciting place to visit. With spectacular beaches and adventures. To backpack around the country, you should have a budget of $20-30 per day. The vast geographical relief offers stunning views of natural beauty combined with culture and fantastic food
Hotel rooms and transport are pretty inexpensive here. You can get a shared hotel room for about $17 a night. The prices of dorm rooms start at $5 per night. Local transport does not cost more than $2 even for long journeys. 
Get your hands on the tasty local food. You can get complete meals for $2-3. If you go for western food in Sri Lanka, you might have to shell out $6 or more per meal. 
BUDGET: $30-$40 per person per person
Heading to Southeast Asia, do not forget to add Laos to your itinerary. This absolute gem is hidden among its famous neighbors. Easy transportation, tasty, cheap eats, and the place's natural beauty make it a true wonder. Any kind of budget can fit the Laos trip like a glove. 
The cost of hostels per night starts from $10, and the prices per night for mid-range hotels start from $30. The local travel via is inexpensive; for example, a train journey between two significant cities Vientiane and Luang Prabang, costs around $16. One side flight for the exact costs is about $45. 
Daily expenses are mere dollars in Laos. Tasty local food can be enjoyed for less than $1. Entry to famous attractions in the country cost a mere $2. Tuk Tuk rides worth a few dollars are all you need to get around the city. This beautiful place will keep you away from budget worries. 
BUDGET: $25-$35 per person per day
South America is a beautiful place to visit, Colombia being one of the cheapest destinations on the Continent. The beautiful palm trees, sparkling beaches, high mountains, ancient traditions, and culture welcome you with open arms. The beautiful place can be visited while being low on a budget without facing any issues. 
For a double room residency that comes with a private bathroom and includes breakfast, you will have to pay $35. You can get your meals at about $8. Traveling around the country is hassle-free with readily available local transportation. You can travel around the city for under $5 per day. Most paid attractions are priced at around $5.
BUDGET: $20-$30 per person per day
Suppose you are looking to travel as a backpacker while enjoying various features. In that case, El Salvador is the right place to be at. This small country offers everything from scintillating lakes, highland volcanoes, sandy beaches, Mayan ruins, and ancient cities. Local travel is easy and efficient. The buses take you everywhere. The trip in the country can be as low as $0.25 to $5. 
You can get tasty, fulfilling meals in El Salvador for 50 cents. You must try the National dish, Pupusas, and it costs less than a dollar. It is perfectly paired with local beer. The dish is healthy and has a burst of flavors with cheese, cabbage slaw, tomato sauce, among other ingredients combined and filled in a tortilla. 
You can choose from a wide range of hotels and homestays. The country hosts friendly hotels, B&Bs, homestays, etc., which you can rent for as low as $10. 
BUDGET: $25-$35 per person per day
Every dollar goes a long way when you are in Nicaragua. It is definitely one of the most beautiful yet cheapest countries to explore. Political instability and unrest have refrained this country from becoming a mass tourism attraction. Still, one can stop you from exploring the wonders. 
Gorgeous beaches are fantastic for learning to surf. With vast geographical relief ranging from beaches to volcanoes, you will not be bored for even a single minute. There is plenty to explore and enjoy. A full meal will cost you about $3. Bus rides can be priced as low as 30 cents. A good bed in a hostel will cost you about $5. Volcano boarding on Cerro Negro will cost you about $40. If you are planning a visit to South America, you must not miss this wonderful place called Nicaragua!
BUDGET: $35-$50 per person per day
If you are an architecture buff, you will fall in love with Turkey. The country offers all you could ask for, from clear beaches to lush mountains, one of the best cuisines, ancient cities, modern cities, etc. Every traveler around the world will swear by the myriad of features Turkey can boast of. Whether you are a backpacker or a luxury traveler, a loner or a group or even a family, there is something for everyone. 
The Turkish people are welcoming and warm, but you might not find many English-speaking folks outside the main cities. Lira, the national currency, has depreciated substantially in recent times, making your trip cheaper than it used to be. A meal at a decent restaurant costs around $10. You can try out some great local food while traveling. The exquisite bread is tasty and fulfilling. You must try the traditional Turkish breakfast which consists of tea and simit, costing below $2. 
Turkey is a safe country to explore. You can hire a rental cab or car for exploration purposes. 
BUDGET: $25-$35 per person per day
Armenia is unique in many ways. This country houses about 3 million residents and is geographically a part of both Asia and Europe. It is one of the upcoming tourist destinations. The first-ever winery of the world can be traced back to Areni-1 caves situated in Vayots Dzor, Armenia. With several historical monasteries lined up along the landscape of Armenia, the country is claimed to be the birthplace of Christianity.
Food in Armenia is absolutely incredible. Wine is infused and blended with food in delicate ways. You can get a tasty and fulfilling meal here for about $5. The capital city, Yerevan, offers beautiful and worth the hype cafes. 
The country enjoys 300+ days of sunshine all around the year. You can board a hotel room for as low as $10. Inter-city travel costs about $2 – $10.
BUDGET: $20-$30 per person per day
Georgia is one of those cheap destinations which are relatively unknown to most people around the world. This exotic, diverse country offers something or the other for everyone. The country lacks big malls and supermarkets, making it a favorite destination for solo female backpacker travelers.
Tbilisi, the capital city, is lined with sulfur baths, orthodox churches, quirky buildings, and fabulous cafes. You can enjoy local wine traditions and the wine-making process just two hours away from the capital. Georgians are proud of their rich, traditional wines. The beautiful countryside of Georgia awaits to be explored. Unique villages in Georgia are perfect for a vacation away from the fast-paced life. 
A meal would cost you about $4. A group tour with a local travel agency would cost around $20. 
BUDGET: $20-$30 per person per day
Ethiopia is a diverse country with so much to offer to everyone. The country caters to broad interests, offering rich culture, heritage, great food, and wildlife exposure. One can rent a hotel room here for as low as $10 a night. A fulfilling meal costs you less than $5 here.
Simien Mountains are great to explore while trekking in Northern Ethiopia. You can spot the Gelada Baboons, which are only found here. Erosion has carved out beautiful deep valleys and peaks along the mountain slopes. You will be mesmerized by the beauty of Simien Mountains, a UNESCO World Heritage Site with unique flora and fauna. 
BUDGET: $15-$25 per person per day
The whole world is an interesting place to explore. Now you know the 12 Cheapest countries to visit for Female Travelers. You must get out of your comfort zone and travel with a female group or as a solo backpacker. Travel excursions lead to new discoveries about the world. Meeting new people and making new connections may or may not be your thing but connecting with your inner self and with nature is surely going to be one.