Leh, the joint capital of Ladakh, was also the historical capital of the Himalayan Kingdom of Ladakh. Leh palace was and is the center of attraction in the region. The castle is built in the same style as the Potala Palace in Tibet. At an altitude of 3,524 meters (11,562 ft), this scenic beauty is connected to Srinagar via National Highway 1 and Manali in the south via the Leh-Manali Highway.
The dream destination is one of the most sought-after destinations in India. Leh Ladakh offers various beautiful natural beauties, offering gorgeous natural wonders that will leave you amazed. The scenic landscapes, shimmering lakes, meandering rivers, ancient monasteries, the Leh palace, etc., all of them combined with the exotic flora and fauna.
Leh is always on every travel enthusiast's bucket list. The expanse of hills and mountains leaves you wanting for more. The adventurous locales are a beautiful sight to behold. All around the year, the place has something to offer to the tourists who come flocking all around the year.
While heading out to Leh, you must understand the importance of acclimatization. The city and other nearby places are situated over an altitude of 10,000feet. Dizziness, acute mountain sickness (AMS), and headaches are common for over-enthusiastic travelers.
The problems faced due to the high altitude and lack of acclimatization can ruin your whole trip. Some people can get over this phase quickly, while others may suffer because of this. So always be cautious. If you are directly flying or driving to your destination, you may be prone to the consequences. You must be aware of altitude sickness and how to deal with it beforehand.
Causes of Acute Mountain Sickness
The high altitude and scarcity of oxygen combine, causing Acute Mountain Sickness in Ladakh. When you scale the heights, your body does not get enough time to adapt to the changed conditions; this leads to AMS. The level of exertion you undergo also plays an important role. Trekking, hiking, mountaineering contribute towards causing AMS at great heights.
You may feel nauseous or hungover if you are going through AMS. Fatigue, stomach disorders, headache, dizziness are other common symptoms to look out for. The symptoms may vary from person to person. Swelling of hands and feet, nose bleeding also takes place in some people. Often these symptoms are short-lived but may be life-threatening if not cared for well.
Acclimatization is the best way to avoid the risk of AMS. All the necessary precautions against AMS must be followed while traveling to Leh. If you are traveling to Leh via flight, keep a rest day before starting on your adventures. You must sleep well and be rested each day. High Levels of exertion can lead to increased risks. Gradually your body adjusts to the new surroundings. 
Precautions to take to overcome AMS
Preventing a dire situation is always better than dealing with one. Here is a complete guide to avoiding AMS on your Leh trip. 
Do not overexert yourself.

Undertake a complete health check-up before starting on your journey. 

Rest properly after you arrive. 

Maintain proper hydration levels. Add electrolytes to your water if needed. 

Ascend slowly.

Do not overeat

Do not spend too much time at high altitude passes.

Avoid antidepressants and alcohol.
Though AMS can hit a person at any high altitude location, some susceptible high altitude locations are at higher risk. These locations are mentioned as follows:
Changthang, altitude 14,846 ft 

Tanglang La, altitude 17,480 ft

Pangong Tso, altitude 14,270 ft

Tso Moriri, altitude 14,836 ft
Keep AMS at bay with acclimatization.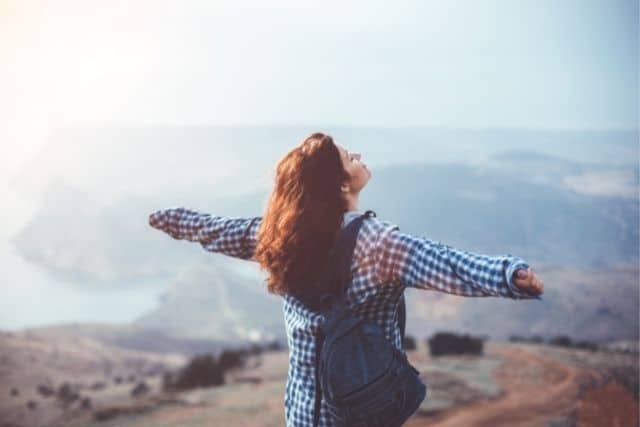 The monsoon season has begun during this time, and the rivers are ushering with new life. Landslides and heavy rainfall can make travel difficult in places. However, the area beyond Zoji La Pass, in Leh from Srinagar and further from Baralacha Pass, towards Leh from Manali side is a rain shadow area.
The rain shadow areas do not receive much rainfall making them safe and peaceful. Several famous festivals are celebrated during this time in Ladakh, and tourists can take part in them and revel in the vibrant beauty of the region.
The weather keeps on changing in these areas. It is better to carry an umbrella or raincoat with you along with some light woolen clothing. It will help you cope with the changing weather efficiently and will avoid any disturbance in your trip. 
Pros of Traveling to Ladakh in August
Monsoon in Leh is experienced for two months- July and August. The region of Ladakh is a cold desert and is a part of the rain shadow area, which means that you will not experience heavy rainfall. A slight drizzle is welcome in the region. The high-rise Himalayan mountains block the rain clouds. While you travel in and outside Leh, you will be met by lush greenery that will mesmerize you for sure. 
As a traveler, there is nothing you would miss while traveling to Leh in August. You can enjoy it all, from trekking to river rafting, masked dances to beautiful festivals. The internal roads which connect the tourist attractions in the region are all open. All the accommodation options are readily available. You can select from a wide range of safe and beautiful hotels, homestays. 
The beautiful weather in August allows you to enjoy the scenic locales to the fullest. You will find it amusing and enthralling to enjoy the tourist attractions with minimal weather disturbances. 
Weather and Temperature in Ladakh in August
The tranquil experience of Leh is heightened by the slight showers and cool breeze in August. The serene ambiance will take over and provide you with great relief. It would be best if you carried warm clothes as it can get chilly at night. In August, the temperature in Leh Ladakh varies from 15°C – 20°C (approx.) in day hours and drops by 5°C after dusk.