The COVID 19 pandemic has jolted the world in many more ways than imagined. The worst-hit is the travel and tourism industry. With global and domestic travel coming to a halt, tourism was greatly affected. 
As we gear up for vaccines and herd immunity, where does the travel stand? Are we ready to pack our bags and set out already? Let us look at some ways in which traveling has been altered forever.
Airport Check-ins will get stricter
As travel inside out is majorly controlled by airports, COVID screenings will become a common practice along with regular screenings. The efforts being put in to contain the spread of the virus can be observed all around. 
Safety measures
Masks in public, hand sanitizers, social distancing will stay here for a long time. Authorities and people themselves would be considerate enough to consider staying home even when down with a common cold or body fever.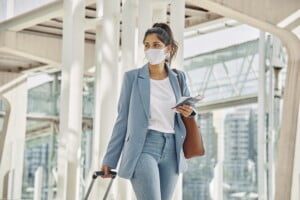 Travel will surely witness a surge
With the lockdowns in place, everyone has grown bored of the four walls of the house. Each one of us wants to set out and explore the world. This is a promising sign for the tourism and travel industry. The boom in travels will help pump the economy as well. 
Your hotel stay will be revamped
With safety concerns in place, check-ins at the hotel and your stay will change forever. The scrutiny at the check-in will increase to avoid the spread of the virus. More cleanliness will be observed in the publicly accessible areas. No more common buffets will be observed to avoid guest-to-guest touch.
Where to travel?
When and where to travel is often the most asked question. Some places carry a vibe of their own and provide a mesmerizing experience. Some places to visit post-pandemic are:
Goa
Goa is the perfect warm, beach getaway for the summer. The refreshing place is perfect for every age group. With beaches, mesmerizing sunset and sunrise views, interesting architecture, splendid views and never-ending parties this place calls for all who want some time off from their monotonous work from home life. 
Dubai
The land of sheiks is the perfect getaway for all those who aspire for opulence. If you are someone who has a penchant for modern architecture, fulfilling experiences, and grand life, you must visit Dubai once in your lifetime. 
Jim Corbett 
The National park is loaded with nature, animals, and lots of relaxing vibes. Nature helps you heal your soul, vision, and bonds. If you are feeling overworked or overwhelmed due to the winding life, this is the perfect place to head to. 
As countries are constantly vying for vaccination for all, travel is all set to get back to normal in the coming times. Precautions would still remain in place and would be observed to avoid the spread of the virus. 
Maldives
A beautiful coral island is a perfect getaway for your fun-filled vacations. With a tropical monsoon climate and white sand beaches, this place is perfect for evening strolls and sunset pictures.
Bali
The iconic city of Indonesia offers safe and beautiful travel for women. You can experience beautiful South-Eastern Asia in this city and explore the unexplored parts of the city. The city is a shopper's paradise.
Kasol
The mini-Israel of India is the perfect getaway for mountain lovers. If you are looking for some cold air and piping hot food, Kasol is the perfect place to be at this summer. Explore the mountains laden with bountiful forests.